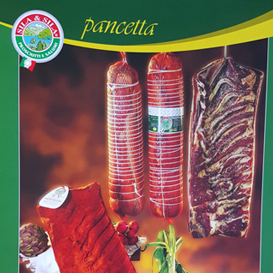 Bacon
Flat and rolled bacon
Two delicious products for the palate
The pancetta is obtained from the parts of the pork below its ribs (the flat pancetta is together with the fat, the rolled one without). They belong to the seasoned entire salamis. They are flavoured and salted following the artisan methods of old Calabrian recipes.
They are seasoned in mountain climate, which gives them a particular taste and fragrance.
They have the typical consistence of seasoned entire salamis, with a rosy colour and a spicy, or not spicy, taste.
Flat Bacon:
Cuts: 2,5 – 3 kg
Seasoning: 30 days
Rolled Bacon:
Cuts: 1,7 – 2,5 kg
Seasoning: 40 days
Conservation: Between 0°C +4°C
Packaging: 5/10/20 kg
All products can be supplied in vacuum-packaging or in protected atmosphere.
Shelf life vacuum-packaging: 180 days
Shelf life protected atmosphere: 90 days
BACK