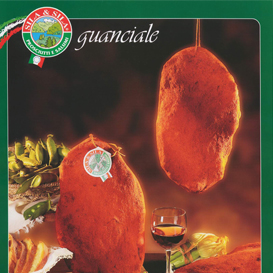 Guanciale
Guanciale (pork cheek), Spicy / Not spicy
The tradition of country taste
The Guanciale is obtained from the cheek muscles and the bacon rind. As it belongs to the category of seasoned entire salamis, the "Guanciale" is flavoured and salted following the artisan methods of old Calabrian recipes. Then, it's seasoned in mountain climate, which gives it a particular taste and fragrance.
It has the typical consistence of seasoned entire salamis, with a rosy colour and a spicy, or not spicy, taste.
Cuts: 0,8 – 1,2 kg
Seasoning: 30 days
Conservation: Between 0°C +4°C
Packaging: 5/10/20 kg
All products can be supplied in vacuum-packaging or in protected atmosphere.
Shelf life vacuum-packing: 180 days
Shelf life protected atmosphere: 90 days.
BACK