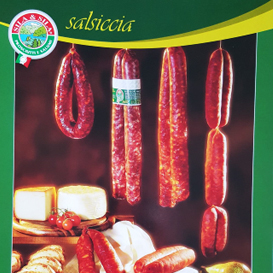 Seasoned Sausage
Seasoned sausage, curved/home made/chain-shaped, Spicy/Not spicy
A party for table and palate.
It's a typical Calabrian medium-grained salami. The seasoned sausage is obtained from high-quality pork's parts; legs, shoulders and bacons are carefully cleaned and selected. Then it's put into natural pork entrails and seasoned in a mountain climate which gives it the particular taste and fragrance.
It has the typical consistence of seasoned Calabrian salami, with a rosy colour and a spicy, or not spicy, taste.
Cuts: 0,5 – 0,6 kg
Seasoning: 30 days
Conservation: Between 0°C +4°C
Packaging: 5/10/20 kg
All products can be supplied in vacuum-packaging or in protected atmosphere.
Shelf life vacuum-packaging: 180 days
Shelf life protected atmosphere: 90 days
BACK