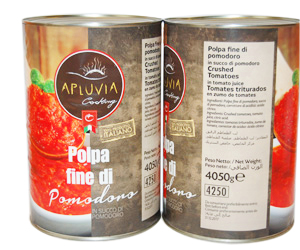 Packaging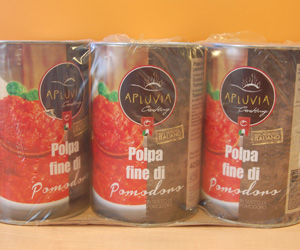 Crushed Tomatoes
Crushed tomatoes are a unique product, with an intense aroma and tasty flavour of a freshly grided tomato.
 The crushed tomatoes, thanks to their dense consistency, make even the simplest dishes very tasty. 
A good combination of consistency and flavour for those who love thick sauces.
 Crushed tomatoes are also very suitable for food such as bruschette, pizza, lasagne, meat sauces.
Uses
The product may be directly consumed or depending on the consumer's preferences may be used for the preparation of sauces or dressings, precooked dishes, etcetera.
Process description
The tomatoes undergoes the following steps during the industrial process: washing, peeling, checking and selection, juice addition and packing, seam, pasteurization, cooling and tin drying. The juice is prepared with the crushed tomatoes, sieved to remove seeds and skin, heated at a low temperature. Aftewards, the product can be used to fill up the tins.
Ingredients
Tomatoes, tomato juice, citric acid (to regulate the acidity)
Preserving process
Preserves to a pH stabilized acid (appertization). Temperature of pasteurization
Manifacturing Process
Product made in tinned band cans.
Preserving and Distribution
Keep at room temperature.
Life Cycle
36 months from production.
Lot indication
Printed with jet ink on the can.
Nutritional Information per 100 g
Energy
27,0 kcal / 114,1 kj
Protein
1,6 g
Carbohydrates
4,3 g
(of which sugars)
3,6 g
Fats
0,2 g
Sodium
0,05 g
Fiber
0,8 g
Packaging information
Description
Net weight (kg)
Brix
Opening
Inside Coating
pcs / carton
cartons / pallet
Pulp tomato 5 kg
4,1
7,5– 8,0
open top
white
3
55
Pulp tomato 3 kg
2,55
8,0– 8,5
open top
gold
6
50
BACK